Dr. Hassan Mohi-ud-Din Qadri addresses a spiritual gathering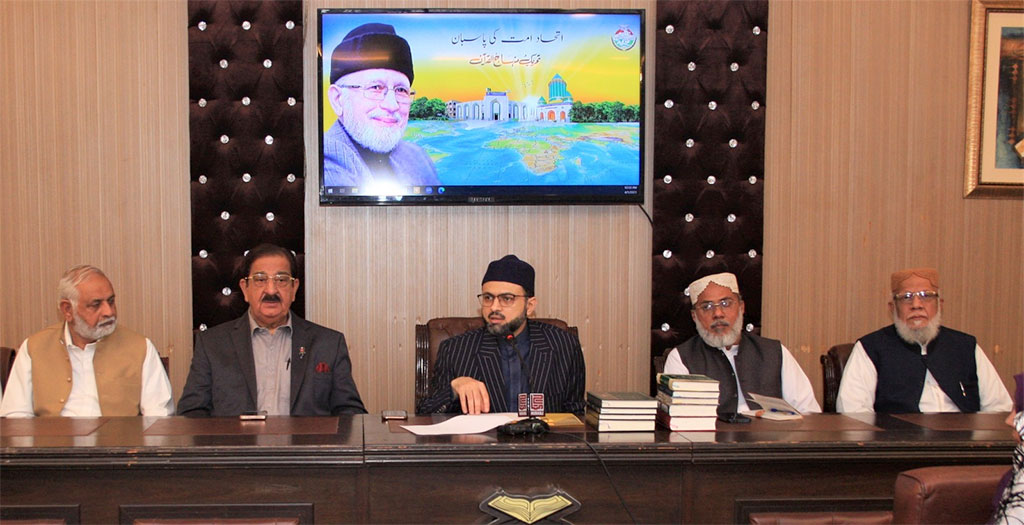 Chairman MQI Supreme Council Dr. Hassan Mohi-ud-Din Qadri held a training session with the teachers, and staff members of the College of Shariah and Islamic Sciences, Minhaj College for Women, and the research scholars of Farid-i-Millat Research Institute after his return from his foreign tour.
Speaking on the occasion, Dr. Hassan Mohi-ud-Din Qadri said that the Holy Prophet (PBUH) is the last of all prophets and there would be no one after him till the Day of Judgment. He said that Islam offers guidance to humanity to solve problems facing it. He said that the duty to propagate what is good and forbid what is evil has been assigned to the Muslim community, adding that it is only a few people who take up the responsibility to serve the cause of religion.
Dr Hassan Mohi-ud-Din Qadri said that the Holy Prophet (PBUH) has endowed his blessings on Minhaj-ul-Quran International, adding that Shaykh-ul-Islam Dr Muhammad Tahir-ul-Qadri has played the role of an ambassador of peace, unity, and interfaith dialogue. He said that Shaykh-ul-Islam has set up institutions of learning across the world that are the source of spreading the true message of Islam. He said that hundreds of books and speeches of Dr. Tahir-ul-Qadri are quenching the thirst of the seekers of knowledge both in the East and the West.
Dr. Hassan Mohi-ud-Din Qadri said that Shaykh-ul-Islam made the teachers and scholars of COSIS his companions in the intellectual, revivalist, and spiritual journey of MQI over the last many decades. He said they are the inheritor and guardians of his mission.
The special session was attended by MQI Secretary General Khurram Nawaz Gandapur, Principal COSIS Dr Mumtaz-ul-Hassan Barvi, Prof Dr. Muhammad Akram Rana, Prof Muhammad Nawaz Zafar, Noorullah Sidduqi, Director FMRI Muhammad Farooq Rana, Director MIB Abdul Sattar Minhajian, teachers of COSIS and Women's College as well as the scholars of FMRi.