Arabic speech & Quranic recitation competitions held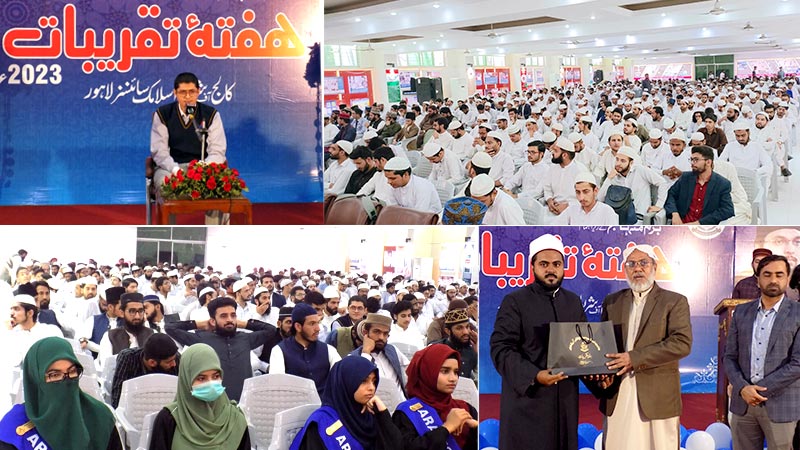 On the first day of the week-long inter-collegiate competitions held under the banner of the College of Shariah and Islamic Sciences, Qirat, and Arabic speech contests were conducted.
The proceedings of the competitions got underway with the recitation of the verses from the Holy Quran by Qari Syed Khalid Hameed Kazmi. The students from the colleges, universities, and religious seminaries from across the country attended the competitions, whereas Hassan Abdullah had the honour of reciting Naat.
The participants in the Qirat competition recited the verses from the Holy Quran in their melodious voices and mesmerized the audience. Qari Babar Al-Azhari announced the final results. Hafiz Muhammad Amjad, GC University Lahore, Qari Muhammad Arsalan Naqashbandi, Jamia Muhammadia Ghousia Mandi Bahauddin, Qari Ikram Rabbani, Minhaj University Lahore, were ranked in the first, second, and third positions.
Dr. Afzal Emani, Qari Owais Asghar, and Qari Babar Qadri were the jury members of the Qirat competition. Dr. Khursheed Qadri, Ateeq Alvi and Dr. Mujahid Ahmad judged the participants in Arabic speech competitions. Muhammad Umar Ali, Muhammad Najumuddin, and Muhammad Asad Khan grabbed the top three positions in the Arabic competition. Farid Kainat was given an honorary award on the occasion.
Renowned spiritual, religious, and literary personality Syed Jamil ur Rehman Chishti presided over the ceremony. Dr. Muhammad Shoaib Arif, Mufti Muhammad Haseeb Qadri and Muhammad Aftab Khan also spoke on the occasion, Principal COSIS Dr. Mumtaz ul Hassan Barvi distributed prizes and shields among the position-holding students.
With the Dua by in-charge Bazm-e-Minhaj Muhammad Muhibbullah Azhar, the inaugural ceremony of the inter-collegiate competitions came to an end.