Productive knowledge is the source of all positive thoughts & actions: Shaykh-ul-Islam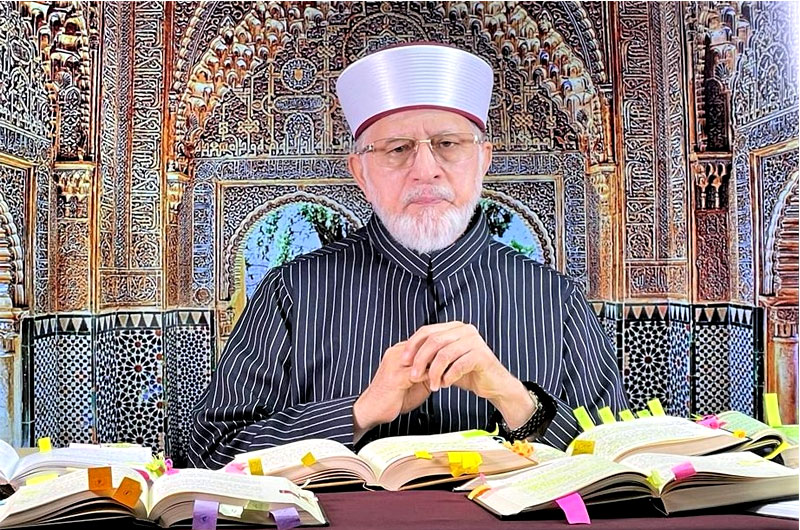 On January 31, 2023, founding-leader and patron-in-chief of MQI Shaykh-ul-Islam Dr Muhammad Tahir-ul-Qadri delivered a special lecture to the faculty and the senior students of College of Shariah and Islamic Sciences (COSIS) on the subject of 'Kitab al-Ilm (Book of Knowledge)' of Sahih al-Bukhari.
In his intellectually incisive speech, Shaykh-ul-Islam said that knowledge is based on words and actions. He said that the angels lay down their wings under the feet of those who set off on a journey to gain productive knowledge and everything present between the heavens and earth prays for their salvation and success. Sincerity, love, truthfulness and fear of Allah are all those values that are connected to one's intention. Citing Imam al-Bukhari, he said that it is important that knowledge is positive and productive, adding that whatever our mind thinks and whatever is uttered by us and whatever actions are performed by our body, they are all related to our knowledge in one way or the other. He said that knowledge is the source and basis of all human actions and deeds.
Shaykh ul Islam said that our mind, actions, thoughts and body are in need of direction to act; and right direction emanates from productive knowledge. He said that the inner action is always superior to the outer action. Knowledge that strengthens one's mind and heart, removes confusion and equips one with conviction is gainful knowledge. Whenever the Holy Prophet (pbuh) and his Companions would use the word 'knowledge', they would mean it to be productive knowledge.
Shaykh-ul-Islam directed the students to use all their energies and time for the acquisition of productive knowledge. He said that this knowledge gives one gnosis and enables the learner to seek true guidance, and gainful knowledge is the inheritance of the Prophets. When one knows about this inheritance from the Prophets, one would not leave any stone unturned to do justice to its acquisition.
Principal COSIS Dr Mumtaz-ul-Hassan Barvi, Prof Muhammad Nawaz Zafar, Mufti Abdul Qayyum Khan Hazarvi, and the senior students and faculty members attended the lecture.